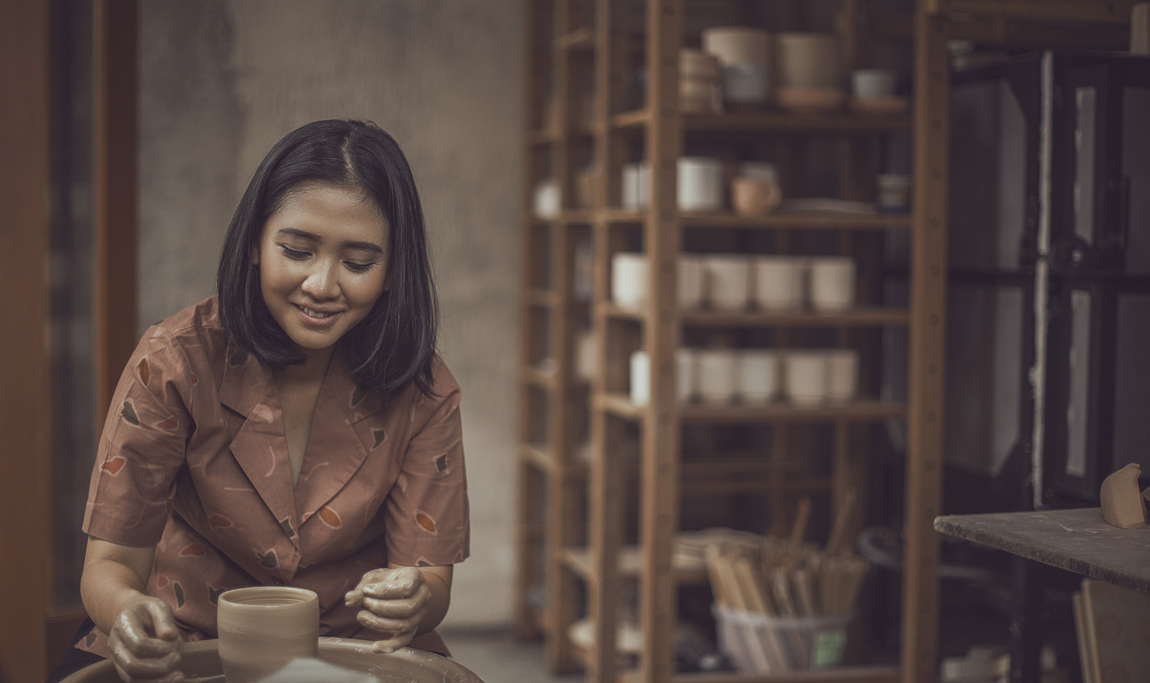 SOJOURN WITH AYU LARASATI
MAY 23, 2016
Sojourn. A temporary stay. Stay somewhere temporarily.
A multifaceted character who plays the role of full-time mother and full-time ceramicist.
A teacher, a seeker of knowledge who is driven, charismatic, erudite, artistic and determined.
We visit Ayu Larasati's humble studio and meet the woman behind some of Indonesia's most well-crafted ceramics.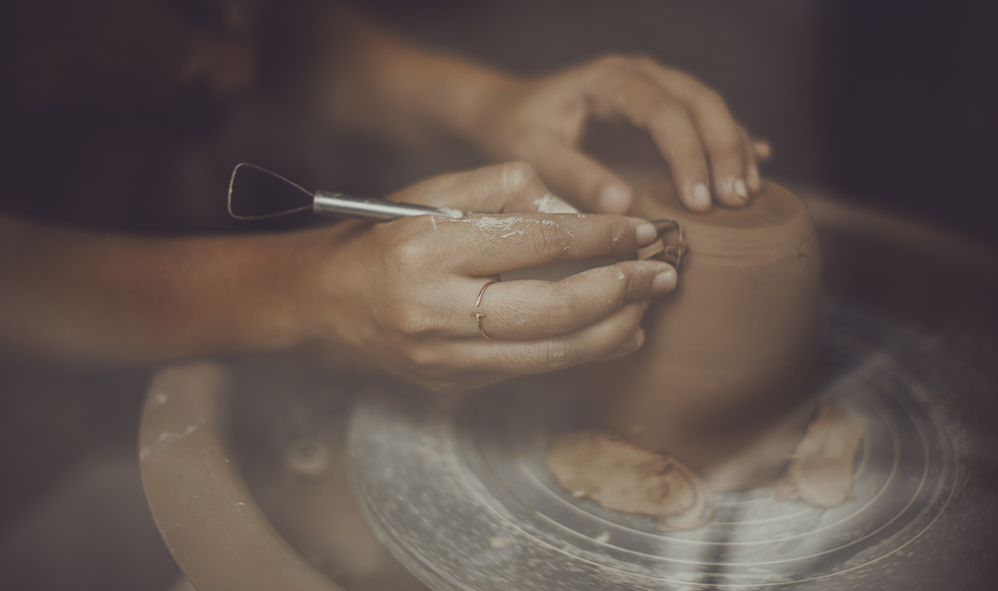 WHERE WERE YOU BORN?
I was born here in Jakarta, moved to Bandung when I was in junior high and then after high school, I moved to Toronto.
WHAT'S THE DIFFERENCE BETWEEN HERE AND ABROAD?
To be honest, I don't really have that much experience here, as my life was very planned and rigid, it was very difficult for me to even play with my neigbours because my parents always considered a lot of factors, particularly things like safety. But when I moved to Toronto it was a very different scene. Growing up in Jakarta was hard because of the routine nature of my childhood home, I even got stressed out as a kid. I wasn't very exposed to art before because all my family are dentists or engineers . Both my parents and my sister are engineers, so I'm the only artistic person.
WERE YOU ALWAYS INTERESTED IN ART?
I was always interested in art. When I was a kid I always colored, drew with pastels, things like that. When I was in junior high I organized art stage and the school bulletin board. I was in charge of organising and designing the yearbook in high school. That's when I knew I want to study art in university, but my parents influenced me to become an architect instead.
WHEN WERE YOU FIRST INTRODUCED TO CERAMICS?
After I moved to Toronto, I still had an interest in art but still when my parents agreed to that idea they still hoped I would pursue things rather than art. Because of my strong will, I chose industrial design which is not purely art. I had an elective studio during my second year which I can choose, so I decided to try ceramics. My first ceramic class was really nice because my first encounter with ceramics was different than any other material I worked with. I tried wood working but it's too noisy and intimidating for me, got my injuries here and there and I think it's more fear than excitement. I tried metal and it's even crazier than woodworking, I need to do welding . Majority of my major were men so it wasn't very common for girls to take that classes. But when I entered ceramic studio it was very calming, the only sound that you will hear is from the pottery wheel.
ANY FORMAL EDUCATION IN CERAMIC?
Not really. At first I found ceramic as the material that I can really work with. I feel like this is the material that I can spend time with and master it in advance, pursue and enjoy it very much. In my school year I took a few ceramic classes as my elective. But after I graduated, I worked as a product designer. I always worked with my computer all the time, doing a lot of conceptual drawings, rendering and stuff like that. I always really want to use my hands to actually make something, so I started taking evening classes for advance ceramics. I have my own pottery wheels and I always borrowed the studio kiln to bake my ceramics. I had a lot of stuff and I give it to my friends as christmas gifts and surprisingly they liked it and encouraged me to make it as a business. I resigned from my full-time job and moved here in 2014 to pursue ceramics as a full-time career, and now here we are.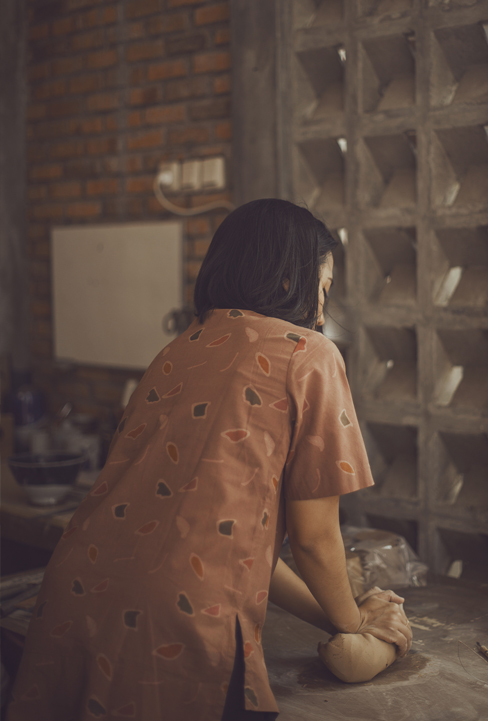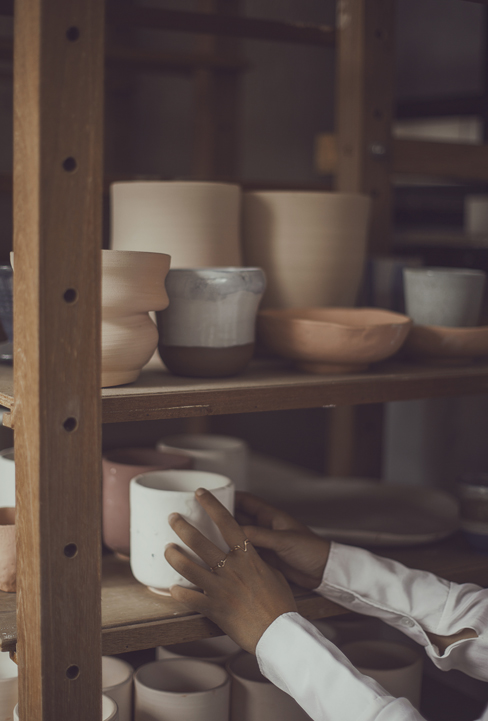 WHAT'S THE MOST INTERESTING PART IN MAKING CERAMICS?
Ceramics feel like you're communicating with the work, because when I first worked with ceramics it felt like you can't force your way through the proccess. When you're rushing or if you're too slow you'll lose the memento. It's only really after you work with it several times that you'll know how to handle it properly. When it's too wet you can not shape its form but when it's too dry it won't reach a good consistency. The most interesting part is if you make mistake I'd rather not fixed it but start a new one. I think it's unique and different than any other material.
HOW WOULD YOU DESCRIBE YOUR BRAND CHARACTER?
I guess I was trying to do a lot of things with local material. Some of the clays are imported but I'm trying to experiment with local materials. I believe each region have their own character of clays. I really admire Japanese ceramic artisans because they just keep on employing what's surrounding them and keep experimenting with their local clays and trying to make the best of it and what really brings out the design is their character. For me, I try to do the same I guess, I try to use as much as local material as I can.
I'm very geometrical. A lot of my designs are mugs and cups because I think they're very interesting. There's already enough challenge in designing those. Mugs are example, only consist of a handle and vessel but you can make thousands of combinations by playing around with its form. I think because of that limitation it gives me more room to play.
ASIDE FROM CERAMICS HOW DO YOU LIKE TO SPEND YOUR FREE TIME?
I like to travel but I don't do it as much as I used to because I need to work on my business. So it's hard for me to have spare time to relax on weekends. But when I have a free time, I definitely read. I love self reflecting fiction books which are fun to read while I'm sipping my tea. I also like to go to the outskirts of the city, where my sister has a farm three hours away from here I like to visit. Yes. My husband is usually very busy as well, but we always try to bring our son along and spend time together as much as we can. My husband loves sport so I tried to catch up the best I can.
SO YOUR FAMILY IS YOUR SUPPORT SYSTEM?
Definitely. To function successfully as a working wife and mother you need to be happy first right, you need to feel fullfilled. You can't juggle both and not take care of yourself. They help me to take care of myself by allowing me do what I like to do. So yes, we all help each other and I try my best play my roles.
When I bake my ceramics, I still get nervous about it. The other day I was away and I entrusted my husband with the kiln and he was freaking out about it. I know it's safe but still, the glaze doesnt't always react like you expect it to, it can be extremely unpredictable. Especially when it's a comissioned work from client, it's always makes me nervous when you're about to open the kiln. I tried to work with an electric kiln but I think the traditional kiln is more interesting because of the different results.
SO YOU DO ALL OF YOUR WORK ON YOUR OWN?
I only have one staff, as it's very hard to train people. Overall, I still mainly do everything by myself and the main tasks like wheeling, however, she does the finishing, vessel, sanding, baking and glazing.
YOU CHOSE DREAM R. FROM THE EQUIVA COLLECTION, ANY SPECIFIC REASON?
I really like it because it's very simple and the geometric play is very nice. I really like the form that you played with.
PHOTO: SHARON ANGELA | INTERVIEW: PRISKA ASTRID & NATHAN LEE
shop SOJOURN WITH AYU LARASATI